Gifts for New Year 2024 with your own hands is not only a manifestation of creativity, but also a special way to express your care and love for loved ones. Nothing compares to the uniqueness and individuality of a gift made with your own hands. After all, it is not just an object, but a piece of your talent, energy and attention that you put into every detail. In this article we will tell you about a variety of ideas for creating New Year gifts 2024 with your own hands, so that your loved ones will feel all the warmth and care that you put into each gift.
Personalized photo albums: Memories packed with love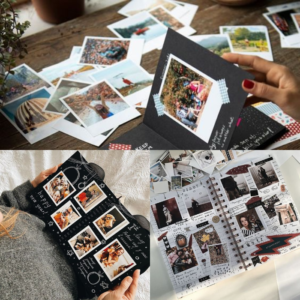 A gift that captures memories and emotions is always special. A personalized photo album is a unique way to share important moments and create a unique gift with love.
Personalizing a photo album starts with selecting the most meaningful photos. You can use snapshots that reflect special moments, family events, travels or important meetings. Place them in chronological order or create a story covering a particular theme.
In addition to photos, you can add original decorative elements. Use stickers, paper cutouts, inscriptions and other accessories to give the pages of the photo album a special zest. You can even hand embroidery or drawings to add beauty and uniqueness to each page.
In addition to decorative elements, don't forget to add notes and comments to the photos. Share your emotions, memories and wishes to make each page even more meaningful and personal.
When the photo album is ready, don't forget to package it in a special cover or box that will reflect the importance and uniqueness of this gift. Such a gift will not only be a great visual addition, but also a lasting memory keeper for years to come.
Dragon's Eye: The Magic Talisman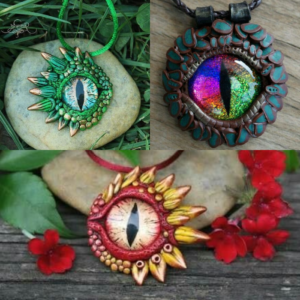 Brooch or pendant in the form of a dragon's eye is an amazing and symbolic gift for the New 2024 Year of the Dragon, which will be perfect for lovers of jewelry and mystical creatures. Creating such an accessory with your own hands will allow you to realize your own creative idea and give the gift a special significance. Here is a detailed guide on how to create a brooch or pendant in the form of a dragon's eye.
Materials and tools:
Glass cabochon for making the eye of the dragon.
Multicolored acrylic paints and nail polish.
Brooch base or pendant.
Brushes of different sizes.
Transparent glossy varnish for protection and shine.
Polymer clay.
Creating the dragon's eye:
Using brushes and acrylic paints, draw the details of the dragon's eye on the glass piece. Choose colors that blend well and convey the dragon's energy and symbolism. For example, golden, green or red hues can be great choices. How to make a dragon eye can be seen in the video.
When the glass eye is dry, you can start creating eyelids and skin folds around it with polymer clay. Use polymer clay for modeling, tools for drawing on clay, paints and varnish to cover the finished product. See an example of making an eye in the video.
If you are creating a brooch, attach the finished dragon eye to the base with glue or wire. If you are creating a pendant, attach the finished product to a pendant or chain.
Now you have a unique gift in the form of a brooch or pendant in the form of a dragon's eye, created with your own hands. This accessory will not only be a stylish piece of jewelry, but also a symbol of strength, magic and protection, which will remind you of the power of the dragon every time its bearer sees it. Gift this special accessory to your loved ones, and they will be delighted not only with its external appeal, but also with the energy and love you put into its creation.
Hand Embroidery: Jewelry with soul and warmth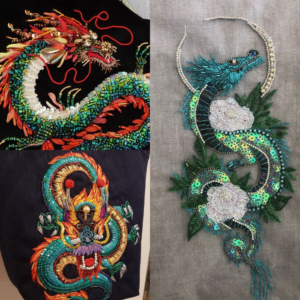 Hand embroidery is a great gift choice for New Year 2024, especially if you want to create something unique and special for a loved one. This gift will not only be beautiful, but will also have great value as it is made with love and care.
The embroidered image can range from a small pattern or flower to large and complex compositions. You can choose a pattern that has a special meaning for the gift recipient, such as their favorite flowers, symbols or life values.
The peculiarity of hand embroidery is that every stitch and every stitch is created by hand, which gives the work uniqueness and uniqueness. This allows you to express your creative individuality and convey emotion through each stitch.
In addition, hand embroidery allows you to use different materials and threads of different textures and shades. You can create interesting effects with sequins, beads or even metallic threads. This adds extra sparkle and appeal to your project.
The recipient of the gift will be delighted to see your attention to detail and hard work put into creating this embroidered masterpiece. Such a gift will not only be a decoration for the home, but also a reminder of your care and love.
It should be taken into account that hand embroidery requires time and patience, so it is important to start work in advance to be able to complete it in time for the New Year. However, the embroidery process itself can be a wonderful hobby that will help you relax and enjoy your creativity.
Scented candles: Romance and coziness for the home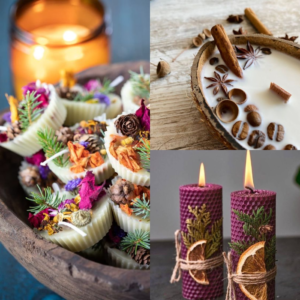 Making scented candles at home is not only a creative process, but also an opportunity to create unique and personalized gifts for your loved ones.
To make scented candles, you will need the following materials:
Wax. Choose a quality and natural wax that melts well and retains its fragrance. It is recommended to use soy or beeswax.
Fragrance oils.

Choose oils with a scent that will be pleasing to the gift recipient. You can use essential oils or special scented oils designed for candles. To create a New Year's mood, compositions of orange oil, pine and spruce oils, cinnamon, vanilla will be perfect.

Wick.

Choose a quality wick that will burn well and support the flame of the candle.

Dyes (optional).

If you want to give your candles a bright or special color, you can use special dyes for candles. Note that not all dyes are suitable for use in candles, so choose those that are designed for this purpose.

Candle molds.

For example, molds in the form of snowflakes, Christmas trees or pine cones will be a great choice for the New Year mood.
Now that you have all the materials you need, you can start making scented candles:
Melt the wax. Use a wax melter or water bath to slowly melt the wax. Make sure you follow all safety precautions when handling the melted wax.
Add the fragrance oil. When the wax is completely melted, add a few drops of your chosen fragrance oil to the wax and mix thoroughly. The amount of oil may vary depending on the desired intensity of the fragrance.
Add colorants (optional). If you want to add color to your candles, add dye to the melted wax and stir until you reach the desired shade. Be careful to add the dye gradually so you don't overdo it.
Prepare the molds and wick. Prepare your chosen candle molds and position the wick so that it is centered and long enough.
Pour the wax into the molds. Carefully and gently pour the melted wax into the molds, leaving enough space at the top to soak the wick.
Allow the candles to cool. Allow the candles to cool and harden completely so that they take on the desired shape and hardness.
Trim the wick. When the candles are fully set, trim the wick to the desired length, leaving about 1 cm at the top.
Decorate. You can decorate the candles with dried flowers, dried orange slices or sprigs of fir trees to create a special mood.
Now that your scented candles are ready, wrap them in beautiful packaging to make them a beautiful and memorable New Year's Eve gift. Add a small card with wishes.
Culinary delicacies: Tasty surprises of your own production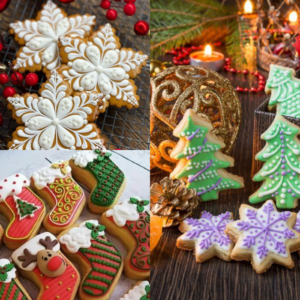 Prepare Christmas cookies with New Year decorations and beautifully arrange as a presentation.
Recipe for New Year's cookies
Ingredients:
250g butter, soft
200g sugar
2 eggs
1 tsp vanilla extract
500g flour
1 tsp baking powder
Instructions:
In a large bowl, mix together the butter and sugar until smooth.
Add the eggs and vanilla extract, continue beating until smooth.
Gradually add the flour and baking powder, continuing to mix until the dough is elastic.
Divide the dough into several pieces and wrap them in cling film. Leave in the refrigerator for 30 minutes to chill.
Heat the oven to 180°C.
Roll out the dough on a surface sprinkled with flour to a thickness of about 0.5 cm.
Cut out the cookies using molds of various shapes associated with the New Year, such as stars, Christmas trees, snowmen, etc.
Place the cookies on baking trays covered with parchment paper, keeping a small space between the cookies.
Bake in the preheated oven for 10-12 minutes, until the cookies are golden.
Leave the cookies to cool on the baking tray.
A cookie frosting recipe you can use to decorate your Christmas cookies
Ingredients:
2 cups powdered sugar
2-3 tablespoons milk
1 teaspoon vanilla extract
Food coloring (optional)
Instructions:
In a large bowl, mix powdered sugar, milk, and vanilla extract until thick but pourable. If the frosting is too thick, add a little more milk. If it is too runny, add more powdered sugar.
If you want to color the icing, add a few drops of food coloring to the bowl and mix thoroughly until you reach the desired shade.
When the icing is ready, use a brush or pastry bag with a nozzle to decorate the cookies. You can create different patterns and decorations.
Allow the icing to dry completely before wrapping it in gift boxes.
Creative Hobby Kit: Inspiration and Talent Development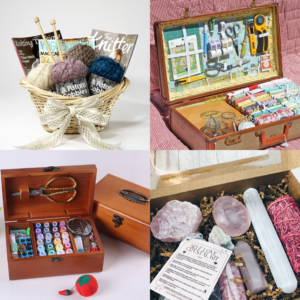 If you want your gift for New Year's Day 2024 to be inspiring and useful, put together a set of supplies for painting, knitting, sewing, or another hobby your loved one is passionate about.
Add instructions or books with ideas and lessons. Pack the kit in a nice bag or box with motivational words.
Homemade bracelets and necklaces: Stylish jewelry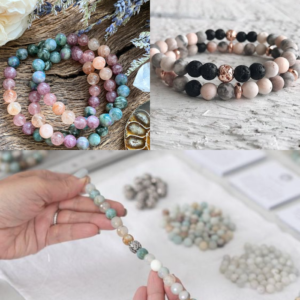 Creating homemade bracelets from stones is a great way to make a special and meaningful gift for the New Year. Not only are natural stone bracelets beautiful and stylish, but they also have special energetic properties.
Here's a guide to making homemade birthstone bracelets as a New Year's gift:
Materials and tools:
Various stones of your choice. You can use semi-precious stones such as amethyst, tiger's eye, rose quartz, labradorite, agate and others.
A cord or thread suitable for the bracelet.
Bracelet clips or other fasteners.
Pliers or pliers for attaching the elements.
Choosing Stones:
Research the properties of different stones and choose those that match the interests and needs of the gift recipient. For example, amethyst is protective and calming, develops wisdom and clairvoyance, tiger's eye helps to reveal strength and confidence, and rose quartz helps to attract love and harmony in relationships.
Preparation of materials:
Measure the desired length of cord or thread, add a small reserve and cut off.
Lay out the chosen stones in front of you to assess their size, color and shape. Arrange them in the desired order.
Creating a bracelet:
String the stones onto the cord or thread according to your design. You can create a bracelet with one type of stone or a combination of different stones.
You can add personalized elements such as pendants with initials or symbols.
When all the stones are strung, check the length of the bracelet and make sure it fits the recipient's wrist.
Secure the ends of the cord or thread with bangle clips or knots.
Finishing the bracelet:
Check that all the stones are well set and not too close together.
Check the piece for strength.
Package the bracelet in a beautiful wrapping or pouch, adding a small wish card.
A bracelet made of stones will be a unique and special gift that will bring joy and positive energy into the life of its owner. Take into account the gift recipient's individual preferences and tastes to create a bracelet that will perfectly suit their style and needs.
Creating cozy plaids: Warmth and comfort for home relaxation
Creating plaids with your own hands is a great way to make a cozy and warm gift for the New Year 2024. Plaids are not only functional items, but also a symbol of comfort, care and warm relationships. You can find a plaid knitting master class online or use the master class from this article.
Homemade notebooks and diaries: For notes and creative thoughts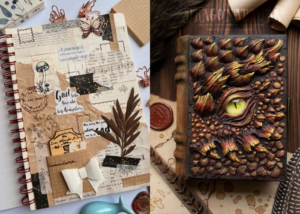 Creating homemade notepads is a great way to make an original and useful gift for New Year 2024. You can come up with a unique design and customize the notepad to suit the interests and needs of the gift recipient. Here's a detailed guide on how to create a homemade notepad:
Materials and tools:
Heavy cardboard for the cover of the notepad.
Paper for the inside pages (ruled, cellular, white or colored).
Scissors, cutter or knife for cutting materials.
Ruler or measuring tape for measuring and alignment.
Paper clips or springs to staple the pages of the notebook together.
Glue or double-sided tape to attach the cover and pages.
Prepare materials:
Measure and cut the cardboard notepad cover to size. It should be slightly larger in width and height than the inside pages.
Cut out the inside pages of the notepad from paper in the desired size. You can determine the number of pages depending on the thickness of the notepad.
To assemble the notepad:
Lay the inside pages on the cover to align their edges.
Divide the pages evenly into several groups and fold them in half to create blocks of pages.
Use paper clips or springs to staple the pages together and attach them to the cover. Spacing the paper clips apart so they hold the pages well.
Make sure the pages are well attached and do not shift.
Decorating the notebook:
You can leave the cover of the notebook in its natural state or decorate it with different materials.
Apply paint, stickers, embroidery, paper elements or other embellishments to give the notepad a unique look.
Place captions, illustrations or photos on the cover that reflect the gift recipient's interests or personality.
You can also add a ribbon or bookmark to make the notepad easy to use.
Check that all pages are well bound and do not shift.
Allow the notepad to dry if you used glue or paints.
Pack the notepad in a beautiful package or decorate it additionally to create a festive mood.
Now you have some creative ideas for creating unique New Year gifts 2024 with your own hands. Choose what best suits your skills and preferences and create special gifts filled with love and care.