According to the ancient Chinese calendar, each year corresponds to a certain animal, which has its own unique qualities and characteristics. In this article, let's look at the coming year 2024 – what animal year it will be according to the horoscope.
The year 2024 will be the year of the Green Wood Dragon, it will start on February 10, 2024 and will last until January 28, 2025.
The Dragon, one of the most powerful symbols in Chinese culture, represents strength, wisdom and inner fire. It symbolizes greatness and transformation, possessing the energy to change lives.
The year 2024, being the year of the Green Wood Dragon, will bring with it fresh energy, new possibilities and transformation. It is a time for development and awareness of our potentials. Under the influence of the Dragon, we will be able to overcome obstacles and make our dreams come true.
Let's take a deeper dive into the symbolism of the coming year, and discover the secrets that will help us harness its energy and influence.
Characteristics of the sign of the year – the Green Wood Dragon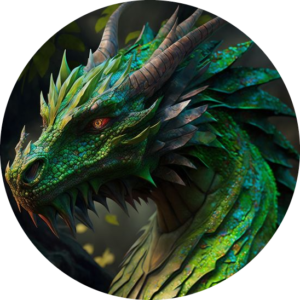 In the Chinese horoscope, the Dragon is one of the most powerful symbols. The Dragon symbolizes strength, passion, power, will and wisdom. It also represents change, transformation and new opportunities. The Year of the Green Wood Dragon, which combines the power and natural energy of the Wood, promises to be a special, promising time.
In Chinese culture, the element of Wood is considered one of the five basic elements. Wood is associated with growth, development and vitality. It symbolizes stability and harmony.
Green symbolizes vitality, growth and freshness. Green is associated with nature, fertility and renewal. It is also associated with harmony and balance as the color of peace and tranquility. In Chinese medicine green is associated with health and energy restoration. It is considered a color that promotes relaxation and tranquility.
The energy of the Green Wood Dragon is the energy of transformation, renewal, development and progress.
What the Year of the Green Wood Dragon 2024 Will Bring
The Year of the Green Dragon will promote the emergence of new leaders willing to take bold and innovative steps to solve global problems. Progressive reforms related to the economy, ecology and social issues are possible.
The year of the Green Dragon will bring transformations in the global economy. The Wood Dragon symbolizes creative energy and entrepreneurial spirit, so entrepreneurs and investors may find new development opportunities. Increased interest in environmentally friendly and innovative industries, such as renewable energy and green technology, is expected.
The Year of the Green Dragon can also be a time to strengthen international relations and cooperation. This energy promotes dialogue and understanding between different countries and cultures. New trade agreements, economic partnerships and technology exchanges are possible, contributing to the development of the global economy.
The Dragon is also known for its independence and indomitability, which can lead to increased tensions and conflicts both internationally and domestically. Contradictions in the interests of different countries and political groupings will increase.
In politics and international relations, it is important to promote mutual understanding and conflict resolution through dialogue and international cooperation. Diplomacy and cooperation between countries would be the basis for sustainable development and solving global problems.
Recommendations for 2024 – how to use the energy of the Green Wood Dragon
The year 2024 will be a time when we can unlock our potential, overcome obstacles and reach new heights. It is a time when it is important to use the energy of the Dragon to inspire, strive for success and leadership. Important qualities this year will be courage, confidence, willingness to change and go into new experiences, as well as the ability to take responsibility.
This is the best time for professional growth, professional development, starting your own business.
In 2024 many people will experience inner excitement, desire for change and ambition, will set themselves big goals. It is important to remember that the energy of the Dragon can also be uncontrollable. It is important to learn how to balance one's ambition with wisdom and restraint. Entrepreneurs and investors will have to be more flexible in their strategies, considering possible changes and adapting to new conditions.
In relationships, the year of the Green Wooden Dragon could bring significant changes. It will stimulate your energy, passion and ability to express yourself in a relationship. Don't forget to be respectful of your partner. Control your energy and avoid conflicts to keep harmony and balance in the relationship. In the year of the Dragon it is important to be wise and fair, work on yourself and strive for spiritual growth. Flexibility, compromise and mutual respect will be key factors in achieving harmony in partner relationships.
Forecast 2024 for the signs of the Chinese horoscope
Rat in 2024 expects success, as the Dragon will treat you with loyalty and support. Your persistence and diligence will be rewarded with favorable opportunities for growth and achievement of goals.
Ox will have to show strength of character and fight for goals. Through patience, persistence and perseverance, you will be able to overcome difficulties and achieve the desired result.
Tiger in 2024 can count on new cooperation and successful commercial deals. Your charisma and energy will attract the attention of partners and help you expand your opportunities.
Rabbit will have an opportunity for success if he learns to look for compromises and adapt to change. The ability to find balance and cooperation will be key to your success.
For Dragon, 2024 will be a particularly auspicious year, a year of destiny awaits you. A powerful stream of good fortune and recognition from others is possible at this time. This is a time when you will be able to realize your potential and achieve impressive results.
Snake will have the opportunity to take the lead if you show your life wisdom and strategic thinking. Your determination and analytical skills will help you succeed and overcome any obstacles.
Horse is advised to concentrate on strengthening your existing positions and developing existing relationships. Interacting with others, sharing ideas and resources will bring significant results
It is important for Goat to be vigilant and carefully verify information that may be relevant to decision making. Critical thinking and analysis will go a long way in preventing trouble and maintaining stability.
Monkey is guaranteed complete harmony with himself and others, which makes 2024 a really successful and productive year for you. You will be able to unleash your creativity, gain recognition and achieve important goals.
Rooster should be more attentive to their emotions, as your irascibility and emotionality can cause conflicts and problems. However, if you learn to control your reactions and be patient, you can avoid unnecessary friction and achieve success.
Dog should be careful in relationships with family, colleagues, and others. To maintain harmony and avoid trouble, you need to be tolerant and cooperative.
Pig in 2024 will face instability and the need to constantly adapt to the changing situation, which will require you to be flexible and able to make quick decisions. It is important to remain optimistic.