New Year's Eve is a magical time when holiday tree lights are lit in every home and the air is filled with the expectation of a miracle. One of the most beautiful and exciting attributes of New Year's celebrations are New Year's decorations. What happiness to make them yourself! Creative New Year's toys, made with their own hands, give the holiday a special charm and uniqueness. In this article we will tell you how to create original and colorful New Year's toys for 2024.
New Year's toys 2024 made of felt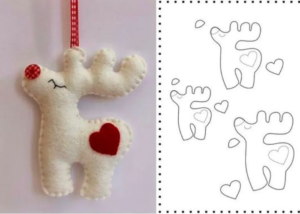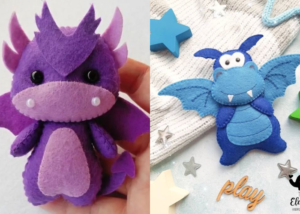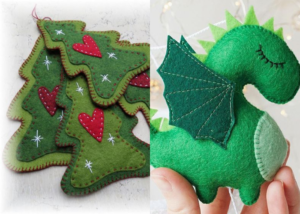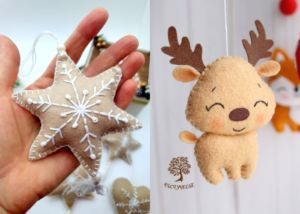 Felt is a universal material for creating funny Christmas characters. Reindeer, snowmen, Christmas trees and snowflakes – cut them out of bright fabrics, and then add decorative elements: beads, glitter, tinsel. Such toys will serve as decoration of the Christmas tree and bring joy to the whole family.
To create a toy from felt you will need the following materials and tools:
Materials:
Felt in different colors.
Thread in appropriate colors.
Filler (for example, cholofiber, synthesizer or absorbent cotton).
Eyes for the toy (if necessary).
Buttons, ribbons, tinsel and other decorative elements (if desired).
Tools:
Scissors.
Needle.
Pencil.
Steps to create a toy from felt:
First, draw the contour of the future toy on the felt. You can use a template or draw it by hand.
Cut out two identical parts from felt.
If necessary, sew eyes or other decorative elements on one of the parts to create the face of the toy.
Fold both pieces and start sewing them together along the edges, leaving a small slit for the filling.
Fill the toy with holofiber or syntepon to make it voluminous.
Finish the sewing process, secure the threads and close the cut.
After that, you can add additional decorative elements such as buttons, ribbons or tinsel to give the toy a more colorful and original look.
In this way, you will create a unique felt toy for New Year 2024. You can use this method to make different toys – from angels to animals or New Year symbols.
New Year's toys 2024 made of salt dough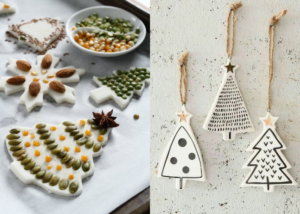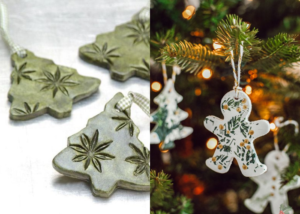 Simple and affordable salt dough can be turned into wonderful Christmas toys. Cut out various figures – snowflakes, stars, hearts. After drying, you can paint them with acrylic paints, giving the decorations bright colors.
Materials:
Wheat flour – 2 parts
Salt – 1 part
Warm water – 1 part.
Steps for making salt dough toys:
In a large bowl, combine the wheat flour and salt. Add warm water and mix all ingredients until a smooth and elastic dough is formed. If the dough is too dry, add a little more water and if it is too sticky, add a little more flour.
Place the dough on a surface lightly sprinkled with flour and start kneading it. Keep kneading the dough for about 5-10 minutes until it becomes smooth and elastic.
Divide the dough into several equal pieces and start creating toys. You can mold different shapes such as stars, snowflakes, Christmas tree toys, hearts, and other Christmas symbols. If you don't have specific molds, you can cut them out of the dough using scissors or a knife.
Before baking, make a small hole in each toy with an awl or toothpick. This will allow you to hang them on the Christmas tree later.
Place the finished toys on a baking tray, previously covered with baking paper, and place in a preheated oven at 50°C for 2 hours. The baking time depends on the size and thickness of the toys. They should dry out completely and become firm.
After the toys have cooled, you can paint them with acrylic paints or varnish them for extra durability.
New Year's toys 2024 made of natural materials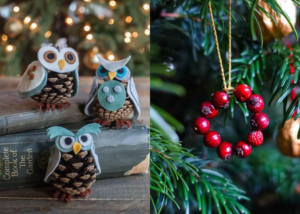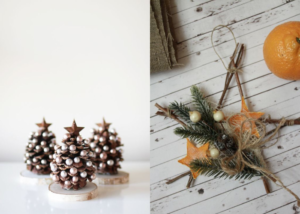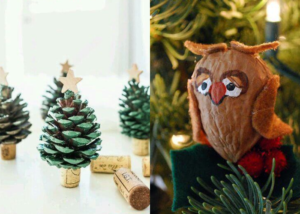 Natural materials are another option for creating unusual Christmas decorations. Pine cones, dry leaves, nuts – they can become the basis for creating crafts in the eco style.
Here are some DIY ideas on how to make beautiful toys:
Pinecones-fir trees: Collect cones of different sizes. Paint the cones green or white using paint or spray paint, and add glitter or fake snow for extra sparkle. Tie a ribbon or string to the top of the pinecone for hanging.
Nut Figures: Use walnuts or pistachios to create miniature animal figures. Such toys will be very cute and original.
Twigs and berries: Collect small twigs and berries, such as bilberry, juniper, lingonberry and others. Make them into compositions or ornaments for your Christmas tree. You can also wrap the twigs with ribbon or gold thread for extra sparkle.
Christmas toys 2024 made of thread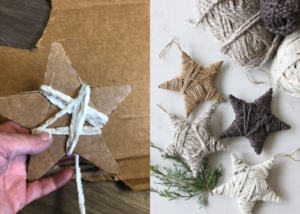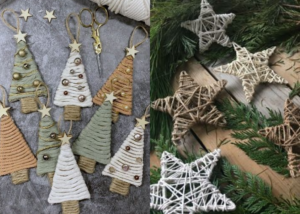 Creating Christmas toys from thread and cardboard is a great way to add coziness and originality to your Christmas decorations.
Materials:
Cardboard.
Multicolored threads.
Scissors.
Glue.
Ribbons or other decorative elements (optional).
Steps to create toys from thread:
Draw on the cardboard outline of the future toy. You can choose the shape of a Christmas tree, snowflake, star or other New Year's symbol.
Cut out the outline from the cardboard and start wrapping it with colorful threads. You can use one color of thread or create interesting combinations.
When you have wrapped the entire outline, secure the end of the thread with glue.
If desired, add decorative elements such as ribbons, beads, sequins or other embellishments to give the toy an extra charm.
If you are making a Christmas tree or snowflake-shaped toy, you can attach a ribbon or string to it for hanging.
Creativity and New Year's mood – that's what unites us in this magical time of year. Do not be afraid to experiment and create New Year decorations 2024 with your own hands, which will please the eye and give smiles.